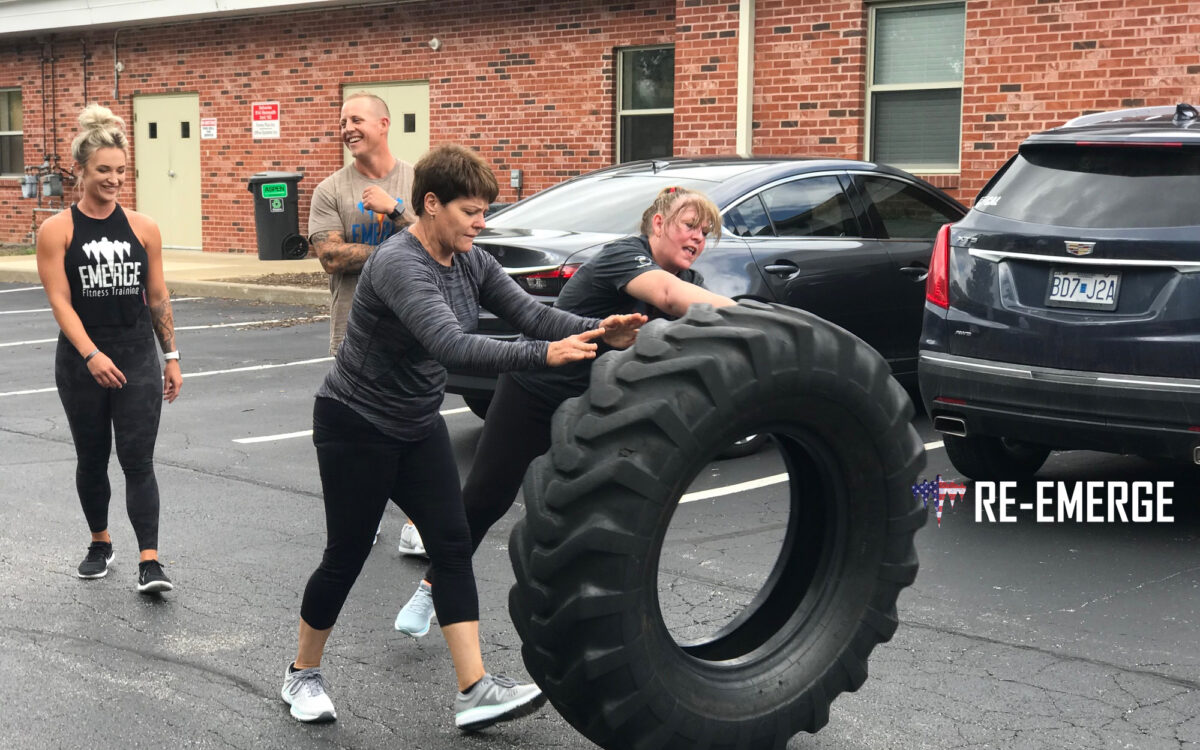 Health and wellbeing for veterans is free of charge at RE-EMERGE. Learn how this specialized St. Louis fitness program nourishes and strengthens veterans' minds, bodies, and souls.
What Is RE-EMERGE?
What do you get when three dedicated trainers come together and create the perfect fitness program exclusively for retired service members and those with disabilities? Happier, healthier veterans across the St. Louis region. In 2019, Matt Pirtle, Sefton Hale, and Whitney Lance started their veterans' wellness program, RE-EMERGE. So far, they've helped over 12 veterans complete 1,000 hours of training combined, transforming their minds, bodies, and souls.
Physical health and mental health go hand in hand. When one lacks adequate care and attention, the other one suffers. Of course, there are several resources such as the Warrior Care Network, the Veterans Crisis Hotline, and supportive friends and family members. However, Matt, Sefton, and Whitney felt there was a missing piece so they created a safe space for veterans to strengthen their mental and spiritual capabilities.
Come as the Warrior You Are
There's no payment necessary for this nonprofit organization. The only thing you need to join is yourself and your willingness to heal with like-minded individuals.
Matt, Sefton, and Whitney thrive on being a part of your journey. Your growth and perseverance are a testament to your warrior within. Their strategic approach caters to your wellbeing from the inside out, helping you achieve your greatest goals for self-improvement.
9-Week Training
The all-inclusive fitness and wellness program at RE-EMERGE allows you to train twice a week, on Tuesdays and Thursdays. During these bi-weekly sessions, you'll meditate, exercise, and receive professional chiropractic soft tissue work. Plus, you'll keep a daily journal to document personal milestones and innermost thoughts throughout the process.
You also benefit from building a bond with your team. Look forward to routine field trips and opportunities to get up and get active in the beautiful city of St. Louis. The training doesn't stop at the gym. Weekly homework assignments enhance your learning experience and help you stay true to core health and wellness principles long after you graduate from the program.
3 Phases of Mental Training
RE-EMERGE trainers believe in cultivating peace and mental clarity. Your mental and emotional stability are just as vital as your physical health:
Phase 1: During the first phase, trainers focus on your stability, awareness, and education. Look deep inside yourself and become fully aware of what shapes you and who you are. This self-discovery process will allow you to identify and eliminate any physical or mental inhibitions.
Phase 2: You will build endurance, action, and discipline during phase 2. You'll be challenged by Matt, Sefton, and Whitney to find your limits and re-define the level of fitness you may achieve.
Phase 3: During this final phase of mental training, identify with your unique purpose and build upon your confidence to achieve any and everything you put your mind to. Strength, control, and realization are the tools that help you hone your new skills.
Veterans' health and wellness are among our top priorities. Ready to start? Click Here
Re-Group
Before you know it, your nine weeks will be complete. If you're not ready to say goodbye to the extended family you've found at RE-EMERGE, here's some great news: you're welcome to continue your training and offer support to the new class starting their 9-week journey. At no charge to you, you can visit RE-EMERGE once a week for an hour to help coach and provide words of encouragement to new class members.
RE-EMERGE Is Just Getting Warmed Up
RE-EMERGE is gearing up for its next set of athletes to start their 9-week training, and they plan on providing this one-of-a-kind experience to veterans for years to come.
While there are countless programs for veterans with PTSD, there are few programs to support retired services members and those with disabilities with the physical and mental support they desire in a structured and exciting setting. For this reason, the St. Louis Hero Network is proud to partner with RE-EMERGE, a veterans wellness program unlike any other. If you or someone you know is interested in joining the class, the trainers at RE-EMERGE look forward to connecting with you.
St. Louis Hero Network encourages you to browse our directory—discover our countless businesses owned and operated by veterans. We're happy to help and honor our veterans in every way we can.
Be a hero. Hire a hero.