Kevin "Shaun" Vitale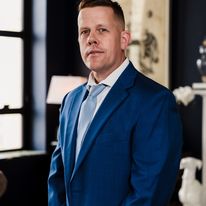 Kevin "Shaun" Vitale
Affiliation:

Military
COMPANY DESCRIPTION:
My passion is helping individuals, families, and business owners achieve peace of mind by developing and implementing creative, customized, and yet cost effective plans. As part of my goal oriented estate planning process. I first seek to understand your goals and needs. My advice focuses on how your estate planning documents advance your goals. I use plain English and easy to understand visual aids, so you know what you need to do in order ensure that your plan works the way you intend. My personal mission is to make estate planning as accessible, efficient and streamlined as possible so that individuals, families, and business owners are motivated to express their estate planning goals, and families and business partners do not have to deal with the disastrous fallout from a lack of planning.
​
In addition to creating estate plans, I work in the probate arena and assists families in implementing plans when loved ones pass away, and in setting up guardianships for minors, individuals with special needs, and individuals who can no longer manage their own affairs. I treat my clients like family, protecting their interests as if they were my own, and making sound recommendations to help them accomplish their planning goals.
In order to stay in-tune with the latest trends and developments in Estate Planning, I became an active member of Wealth Counsel, a national community of top estate planning professionals committed to the highest standard of practice excellence. This collaborative organization, along with attending seminars taught by nationally recognized thought leaders, keeps me on the leading edge of the newest estate planning ideas and approaches.
​
I believe that effective estate planning is critical to the financial, physical, and emotional well-being of my clients, and I am grateful for the opportunity to be involved in the process.
I received my undergraduate degree from Washington University In Saint Louis in 2010 and my JD from Saint Louis University in 2014 and I am licensed to practice law in Missouri.
I am a Marine Corps Veteran and an Army (National Guard) Commissioned Officer with 19 year of combined service, I love working with the veteran community.
I am supported by my incredible wife Rachel (she truly is my rock) as well as daughters Caelan and Fern.
I enjoy spending time with my family, travel, reading, strong cups of coffee and fast cars!
My Mission
I practice estate planning so I can use my education, experience, talents and abilities to best serve others throughout the entire state of Missouri.
​
With that in mind, my mission is to:
Develop long-term relationships with my clients and their team of financial professionals by earning their confidence and trust.​
Fully understand my clients' circumstances, needs, goals and anxieties.​
Stay abreast of new developments in the law and how those developments affect clients.​
Use the most appropriate, efficient and cost-effective strategies to accomplish my client's objectives.​
Provide clients the peace of mind that they have hired the best attorney to represent them.​
Make a positive difference in my client's lives.
COMPANY SERVICES: Estate Planning Attorney: Wills, Trusts, Power of Attorney, Guardianship, Beneficiary Deeds, Advanced Directives Small Business: LLC/S-CORP/C-CORP formation, Mergers, Business Contracts, Operating Agreements Traffic Law
BONDED: No
INSURED: Yes
YEARS EMPLOYED: 19
EMPLOYMENT CITY: All of Missouri
EMPLOYMENT STATE: Missouri