HONOR A HERO FOR CHRISTMAS
12 Days of Christmas
Adopt A First Responder Family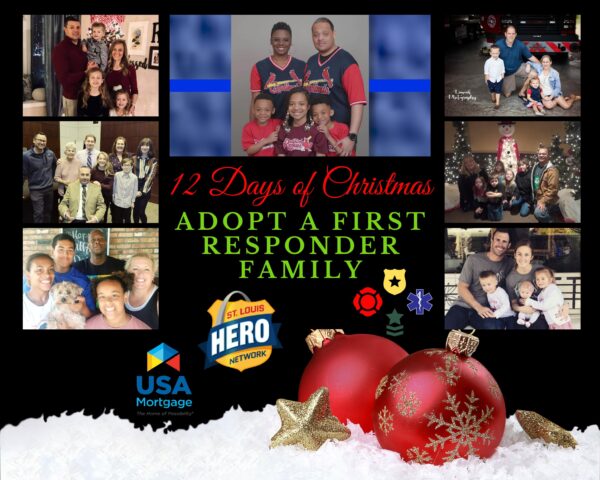 🎁
🎄
ST. LOUIS HERO NETWORK'S
🎄
🎁
The
St. Louis Hero Network
is thrilled to announce that we are partnering with
USA Mortgage
for our 12 days of Christmas – Adopt a First Responder Family. We will feature SEVEN First Responder families over the coming days.
Each of these families have suffered a loss of their loved one or have gone through unimaginable hardships. More than anything, the children involved could use a little Christmas Magic this year. That's where YOU can help! We want to raise as much money as possible until Christmas and we know we can come together as a community and we know, WE will show up HUGE!
USA Mortgage was gracious enough to set up donation website with ZERO transaction fees where you can give as little or as much as you'd like. EVERY DOLLAR HELPS! We know our St. Louis Hero Network Community can make this Christmas unforgettable for these very deserving families.
PLEASE SHARE & let's reach as many people as possible
‼️
Thank you in advance to anyone who chooses to help make their Christmas's brighter. Without all of YOU, we would not be able to support those that who support us. Our community's giving Spirit is unmatched and personifies the true meaning of Christmas.
❤
Benefiting:
ZERO TRANSACTION FEES… 100% of the amount shown goes towards our cause.
Thank you for your Support!