HELP A HERO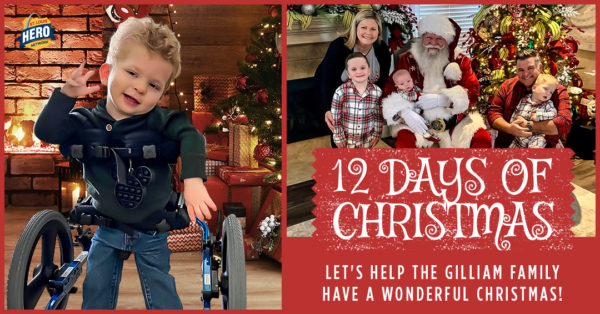 A man who has given so much to support and honor fellow first responders could use some of that good will in return this holiday season.
The Gilliams find themselves facing an unimaginable challenge – two of their three sons are battling life threatening conditions.
Mark Gilliam started as a volunteer firefighter at Metro West at the age of 14. He was hired on full time in 1999 and has dedicated the last 23 years to the safety and care of his community. As most people who know him will tell you, Mark would give a stranger the shirt off his back and then buy them one more so they had one to spare.
When Officer Mike Flamion was shot and paralyzed in 2016, Mark created an event called Mike Flamion's Hotdogs with Heroes. In the wake of a very painful time, he wanted to show area first responders just how much love and support the community has for them. The first event raised over $34,000.
They formally established the non-profit Code 3 Response in 2018 to assist area first responders who have been critically injured in the line of duty or have suffered a catastrophic life event. Mark and his wife, Lauren, continue to hold the event annually and have raised nearly $500,000.
Mark and Lauren have 3 sons. James has Addison's disease in which common illnesses or even a very hot day can send his body into crisis, requiring emergency medical attention. Charlie has Koolen de Vries syndrome, a rare genetic disorder that affects 1 in 30,000 people. As a result, he has epilepsy, cardiac arrhythmia, pulmonary complications, and global developmental delay. He is non-verbal and unable to stand unassisted. He is completely g-tube dependent which significantly limits who is able to care for him. He sees more than 8 different specialists and has been admitted to the ICU eight times this year alone.
On June 29, 2022, after being admitted for a simple outpatient procedure, Charlie went into sudden cardiac arrest and CPR was administered until they got him back. He was transferred to the cardiac ICU for extensive testing but went into cardiac arrest once again while a central IV line was being placed in his neck. After 11 minutes of CPR and defibrillation, they were able to bring Charlie back and get him stabilized. Suspecting an underlying heart arrhythmia, the cardiologist suggested implanting a heart monitor in his chest to read rhythms and notify the family of any abnormalities.
Just one month later, Charlie was back in the PICU while fighting RSV, adenovirus, and bacterial pneumonia. They were released the day after Thanksgiving and were unable to share in the joys of the holiday with family and friends.
Mark and Lauren have been happily married for 13 years. Lauren knows a thing or two about the joys and hardships of being the wife of a first responder. There are some days when she is the sole caregiver for her 3 children, one who needs around the clock care and whose health and future continue to be unclear. Instead of sleeping when she can, Lauren finds herself worrying about how much longer she will be able to carry her child up the stairs to bed as he grows bigger every day. With medical bills mounting, she worries about when or if she will be able to return to work.
Charlie will eventually need to be in a house that has been adapted for his special needs so he can move and grow using assistive technology and adaptive equipment. Our hope is to raise enough money to help this family make these necessary modifications and adjustments for his care.
Join us in lifting the weight off the Gilliam family's shoulders this Christmas, so they can focus on what really matters.
---
We've partnered with

USA Mortgage

to create the Lance Corporal Jared Schmitz Memorial Fund. Jared was one of the 12 Marines who sacrificed his own life for his country, at just 20 years old.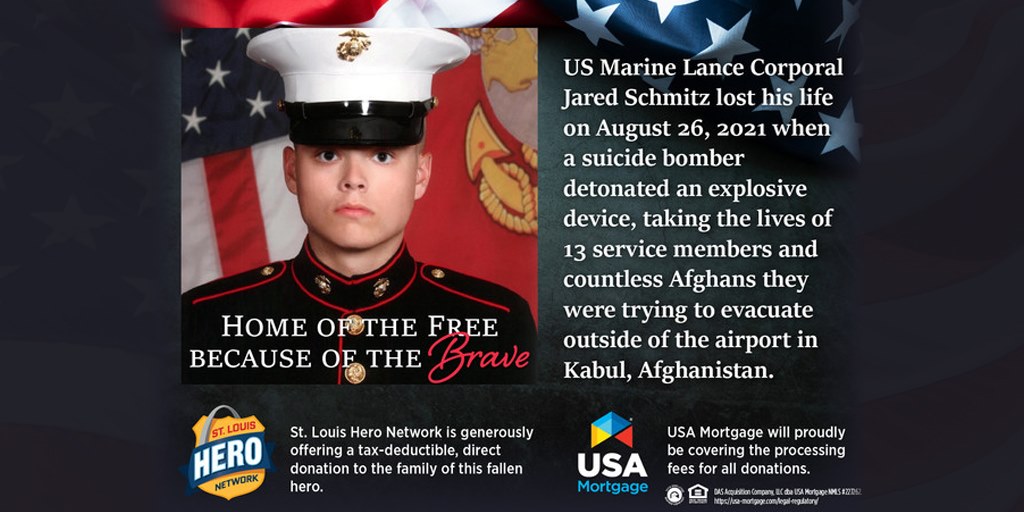 USA Mortgage is proudly covering all processing fees for donations. Each and every dollar collected will go to this hero's family to set up a future scholarship fund or foundation in Jared's name.
Lance Corporal Schmitz, we thank you for your service and sacrifice and vow to never forget your bravery.
The Few the Proud.