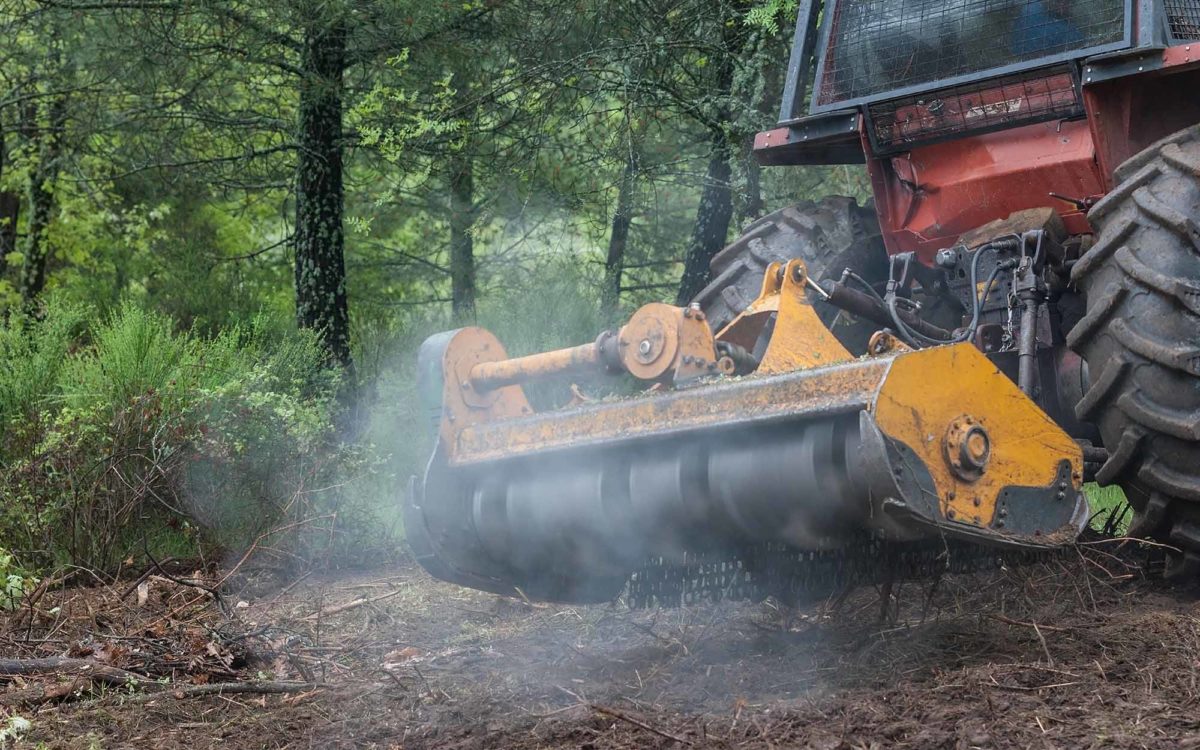 Is your property starting to look overgrown and unmanageable? Do you have landscaping projects that are behind schedule? If so, you might be in need of forestry mulching from Right Way Forestry Clearing. Keep reading to learn more about this veteran-owned St. Louis business and how they can transform your property's landscape.
Forestry Mulching Done the Right Way
Enter Right Way Forestry Clearing
Right Way Forestry Clearing is a veteran-owned-and-operated land clearing and mulching company dedicated to getting the job done right. This father and son forest mulching duo is passionate about clearing troublesome undergrowth and giving back to combat-wounded veterans. As an esteemed member of the St. Louis Hero Network, Right Way Forestry Clearing is your go-to mulching service for any land clearing project you have in the St. Louis area.
What Is Forestry Mulching?
Forestry mulching is a mulching service that removes vegetation and undergrowth. This land clearing method is fast, efficient, and easy. Using a single machine—a compact tract machine equipped with a drum cutter—Right Way Forestry Clearing shreds vegetation and undergrowth while leaving the soil structure intact. The mulched material left behind acts as an erosion barrier and provides a fresh starting point for landscaping projects. Where you once had an unruly collection of invasive plants and pesky undergrowth, you now can install flower beds, fence lines, or trails. With your land opened up, the possibilities are endless.
Benefits of Forestry Mulching
Forestry mulching is a great way for private landowners to get the most out of their property. Here are some of the key benefits of forestry mulching.
Homeowner Friendly
With new mulching technology, there's no need to acquire permits for heavy machinery. Forestry mulching doesn't involve burning vegetation and undergrowth, and it doesn't change the surface grade of the ground. For homeowners, this speeds up the land-clearing process substantially. Moreover, forestry mulching lets homeowners pick and choose which elements on their property remain intact and which get shredded. Forestry mulching doesn't affect the root base of trees, so homeowners can save certain trees and get rid of others.
Fast and Cost-Effective
Clearing pesky undergrowth, vegetation, and invasive species used to be an overwhelming, time-consuming, and expensive process. Multiple pieces of machinery were required to cut, move, and burn excess brush and vegetation. With our machines at Right Way Forestry Clearing, there's no need to transport or burn the uprooted brush—our tract cuts and grinds undergrowth and vegetation directly into mulched material. This lets us keep a low overhead and transfer our savings back to you.
Environmentally Friendly
With our forestry mulchers, shredded vegetation and undergrowth are deposited right back where they came from. This enriches the soil with nutrients and composite material. Mulched material isn't just a way to give back to the soil, it also acts as an erosion barrier. Shredded vegetation slows and diverts the flow of water throughout your property, meaning less soil is picked up and deposited elsewhere.
Want to see our high-quality work? Check out our recent projects!
Right Way Forestry Clearing Services
At Right Way Forestry Clearing, we're determined to help you get the most out of your property. Whether you're looking to clear space for future landscaping projects, get rid of invasive species, or clearly delineate your property line, we have the mulching services for you. Here are some of our forestry and mulching services:
Overgrowth Cleanup
Tree and Vegetation Thinning
Right-of-Way Clearing
Power Line Clearing
Invasive Species Removal
Land Reclamation
Fence Line Clearing
Roadway Clearing
Bush Grinding
Horse, Walking, and ATV Trails
Hunting Access Lanes, Clubs
Property Lines
Why You Should Choose Right Way Forestry Clearing
Clearing and mulching sections of your property is a big decision for many private landowners. At Right Way Forestry Clearing, we respect your property. Our compact machines allow us to navigate seamlessly between trees and other elements of your landscape. They also spread the mulched material evenly across the entire track surface. This paves the way, literally, for good erosion control across your property. Our compact machines don't leave ruts, tracks, or cause erosion. Moreover, mulching services from Right Way Forestry Clearing are cost- and time-effective. We operate with a very low overhead and provide our customers with a competitive price. Our modern forestry mulchers are fast and efficient—you'll be surprised at how much land we can clear in a short period of time.
As veterans ourselves, we know what it's like to be in the armed forces. We're dedicated to giving back and supporting those that were wounded in action. That's why, for every forestry mulching job we take, we donate 5% of our gross revenue to a combat-wounded veteran organization. If it's time to clear some land on your property, make sure it's done the Right Way. Contact Right Way Forestry Clearing today for a free, no obligation consultation.