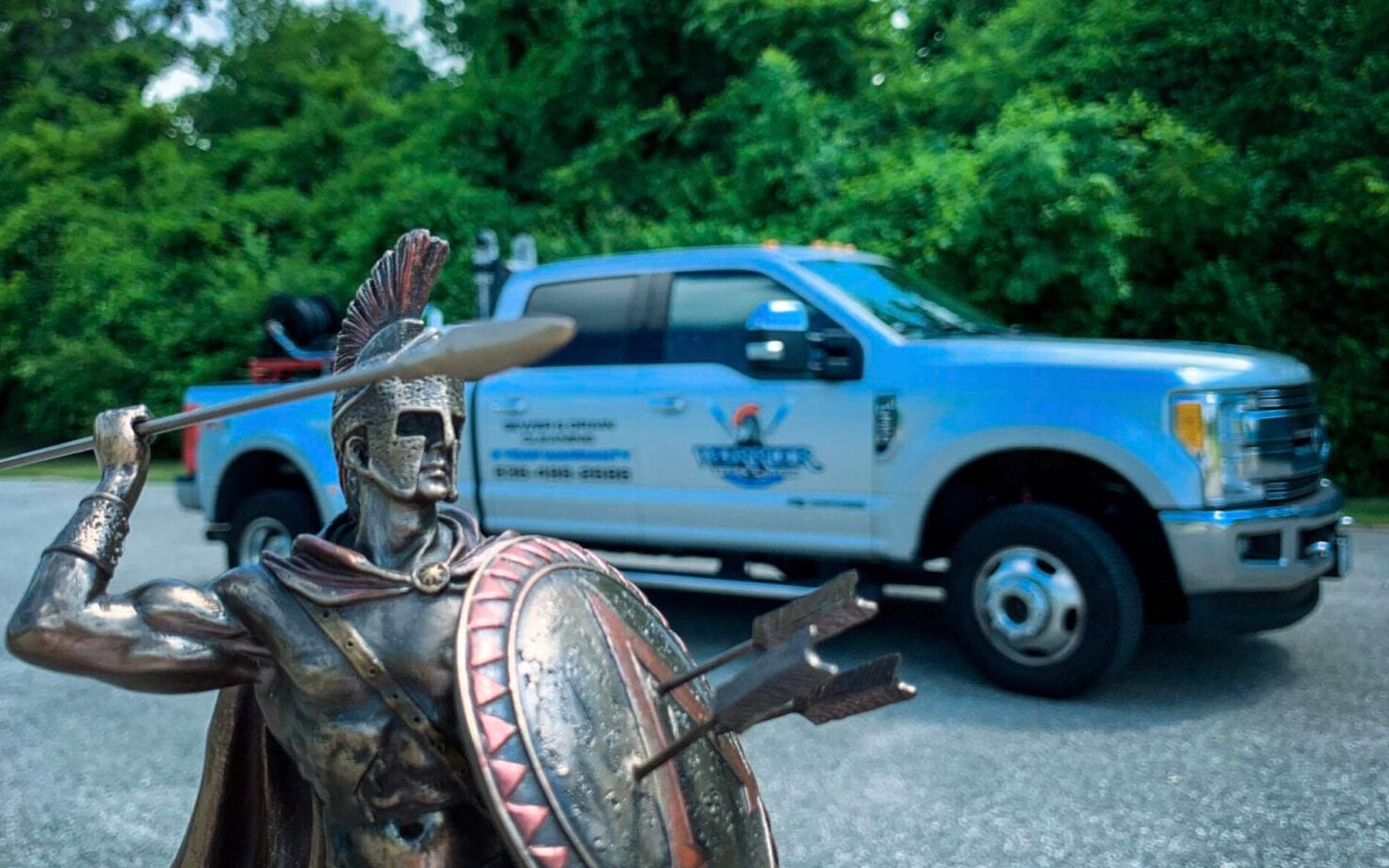 Sewer and drainage issues can become, well, draining. Luckily, Warrior Sewer and Drain puts an end to your worries and eliminates your plumbing and piping problems.
Warrior Sewer and Drain to the Rescue
Shawn Clouse has been "fighting sewer and drain battles" in St. Louis and St. Charles counties for over 25 years as the proud owner of Warrior Sewer and Drain. Also known as Shawn the Warrior, he's a U.S. Army veteran and beloved member of St. Louis Hero Network.
Shawn has gone from a hero who proudly serves and protects our country to the hero who unclogs your sewer and drain pipes. When you're facing extensive plumbing issues, give Shawn's team a call, and they'll arrive promptly with the skills and equipment to go to war for your system.
Camera Inspection
If you've noticed your sink is draining slower than usual, it doesn't help to sit and wonder what the problem is and wait for it to get worse. Take proactive measures and call the experts. Shawn the Warrior is known for his preventative camera inspections. Most issues that occur can't be seen, so Shawn uses a tiny fiber-optic camera snaked through your piping to get a clear look. Clever, right?
Open or unclogged pipes are great, but Warrior Sewer and Drain makes sure they're clean as well. Shawn's technicians blast high-pressure water through the pipes to keep your sewer line clean and avoid future backups.
Going the extra mile to make sure your pipes are open and clean is one thing that sets Warrior Sewer and Drain apart from the competition. Shawn is so confident in his solutions and workmanship that his services are backed by extended warranties for up to five years. That way, his customers have an additional layer of protection and peace of mind.
Sewer and Drain Cleaning
Every property needs high-functioning sewer and drain lines, and with Warrior Sewer and Drain, that's exactly what customers get. It's never a good time for a system backup. Issues with sewer and drain clogging cause lots of downtime. Worse, when problems are too far gone, a sewer and drain line replacement is needed prematurely. Enlisting the help of Warrior Sewer and Drain saves you time and money in the long run. And there's no need to fret—wherever there's a backup, they've got you covered. Warrior Sewer and Drain has the knowledge and expertise to fix any clogged drain, including:
Kitchen drains
Shower drains
Toilet drains
Bathroom sinks
Floor drains
Sump pumps
Hydro Jetting
Using his state-of-the-art pipe camera to check if your system is clogged is one step, but unclogging a backed-up system is an even more intricate process. Instead of digging clogged drain pipes out of the ground for repair, hydro jetting uses high-pressure water to blast away pipe blockages. Water is a quick and effective way to remove the buildup in your pipes.
It's important to keep in mind that only certified technicians should perform hydro jetting. Getting professional services from Warrior Sewer and Drain prevents pipe breakage, costly repairs, and inconvenience later down the road.
Are you looking for local companies owned and operated by police officers, firefighters, and U.S. veterans? Browse Our Directory
Paying It Forward, One Hero to Another
Shawn's love and respect for veterans and first responders runs deep. His philanthropic efforts and kind gestures to local authorities and fellow retired service members are always appreciated within his community. Shawn's devotion to his family and his community is admirable, and he's known for his bravery, integrity, and leadership. He continues to amaze us here at St. Louis Hero Network. We were honored to recognize his most recent act of kindness: donating meals from The Brass Rail Steakhouse to the entire Cottleville Fire Protection District.
Shawn wanted to pay it forward and thank the first responders who arrived at his home in minutes to answer his infant son's medical emergency. He's forever thankful for their swift and efficient answer to their call of duty and for saving his son's life.
Warrior Sewer and Drain Fights Your Plumbing Battles
If you're searching for local drain cleaning services, look no further. Warrior Sewer and Drain offers drain cleaning in St. Charles, St. Louis, and surrounding cities and counties. A business that provides outstanding customer service, transparent industry knowledge, and a job that is perfectly done is a triple threat. And when it's owned by St. Louis Hero Network's very own, what more could you ask for?
We know there are countless plumbers in St. Louis to choose from. But we say this with the utmost confidence: you'd be hard-pressed to find one like Warrior Sewer and Drain.
Visit our directory to connect with other businesses owned by St. Louis veterans, first responders, and police officers.
Be a hero. Hire a hero.