Cadet Pest Offers Best
Pest Control in St. Louis
When flying, hopping, or crawling trespassers find refuge in your home or business, call the experts at Cadet Pest Control—rodents, ticks, and termites are terrified of this crew.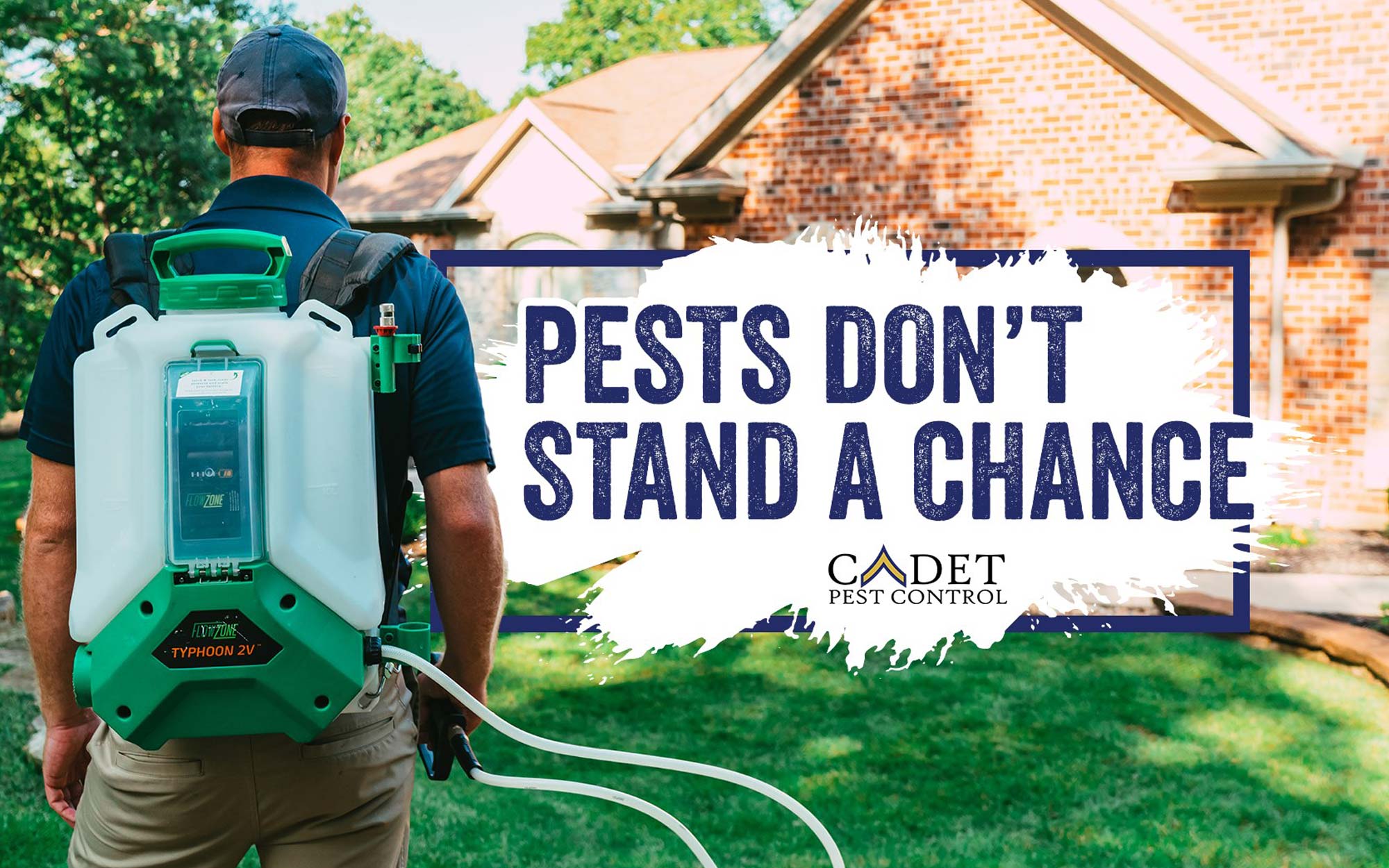 Eliminate Pesky Property Intruders
If the sight of vermin and insects makes your skin crawl, there's no need to fend for yourself. Cadet Pest Control means business, and they've been killing bugs and taking names all across St. Louis, Missouri since 2014. This veteran-owned pest control company provides its 200% satisfaction guarantee to St. Louis, St. Charles, Franklin, and Jefferson Counties. Both residential and commercial properties can benefit from Cadet Pest Control's expert procedures, including ongoing treatment plans and non-toxic solutions.
The safety and comfort of you and your guests is Cadet's utmost priority, and they're certified to take on any rodent, bug, or wildlife nuisance invading your property. Customers can experience relief on any level necessary with the following residential pest control packages:
Silver Package
For locations that need the bare minimum protection, the Silver package starts at $33 per month. Pest control specialists visit your home or business quarterly to perform preventative services that ward off ants, spiders, centipedes, roaches, crickets, beetles, and other irritating insects.
Gold Package
When you purchase the Gold package, payments start at $39.50 per month for bi-monthly pest control services. In addition to protection from pests in the Silver package, you're also protected from mice, rats, and revolting roaches. The Gold package safeguards the home against stinging insects like bees, wasps, and hornets. Plus, for families with dogs or cats, the Gold package provides interior flea protection.
Platinum Package
For $75 per month, homeowners receive monthly visits from Cadet Pest Control specialists. This all-inclusive package offers protection from every pest included in the Silver and Gold packages. In addition to common insects and vermin, the Platinum package eliminates disease-carrying mosquitoes and other harmful, biting, and blood-sucking pests like chiggers, ticks, and exterior fleas.
In terms of their commercial pest solutions, the fully licensed and insured pest professionals at Cadet will keep your restaurant, warehouse, office space, apartment complex, long-term care facility, or business pest-free and running smoothly.
Service Add-Ons
For high-quality STL pest control, turn to the pros at Cadet. Not all pests are created equal; some insects and wildlife require different means of elimination. Whether you have rodent and wildlife woes or itch-inflicting fleas, the team at Cadet Pest Control can perform any extra services you need, including:
Termite and Bed Bug Treatment
Are termites ruining the woodwork of your property? The damage stops here. Call Cadet Pest Control to rid your building of termites. After a free inspection of the damage, they create the perfect plan so you can say goodbye to termites and hello to long-term protection.
Additionally, Cadet Pest Control puts an end to your bed bug nightmare. Before you consider pitching your expensive furniture, call these pest control experts to analyze the premises and mobilize the appropriate solution.
Disinfection Services
Now is a great time to implement hospital-grade disinfection services. The multi-faceted crew at Cadet Pest Control kills bugs and insects and annihilates germs and bacteria. When disinfection isn't prioritized, microorganisms fester, causing filth and foul odors. This not only draws in more bugs, mice, and other pests, but it's also unsanitary and unhealthy. Take pride in your home or place of business and rest assured that your environment is safe and clean with Cadet's thorough disinfection services.
A Proud Affiliate of St. Louis Hero Network
St. Louis Hero Network supports and shines a light on businesses owned by those who protect and serve our community. With a perfect Facebook rating, customers sing their praises, calling the team "incredibly responsive and thorough" as they perform "amazing" services.
As certified members of the National Pest Management Association, this team goes above and beyond to make you and your building's inhabitants feel as comfortable as possible. It's simple: "Pests don't stand a chance against Cadet."