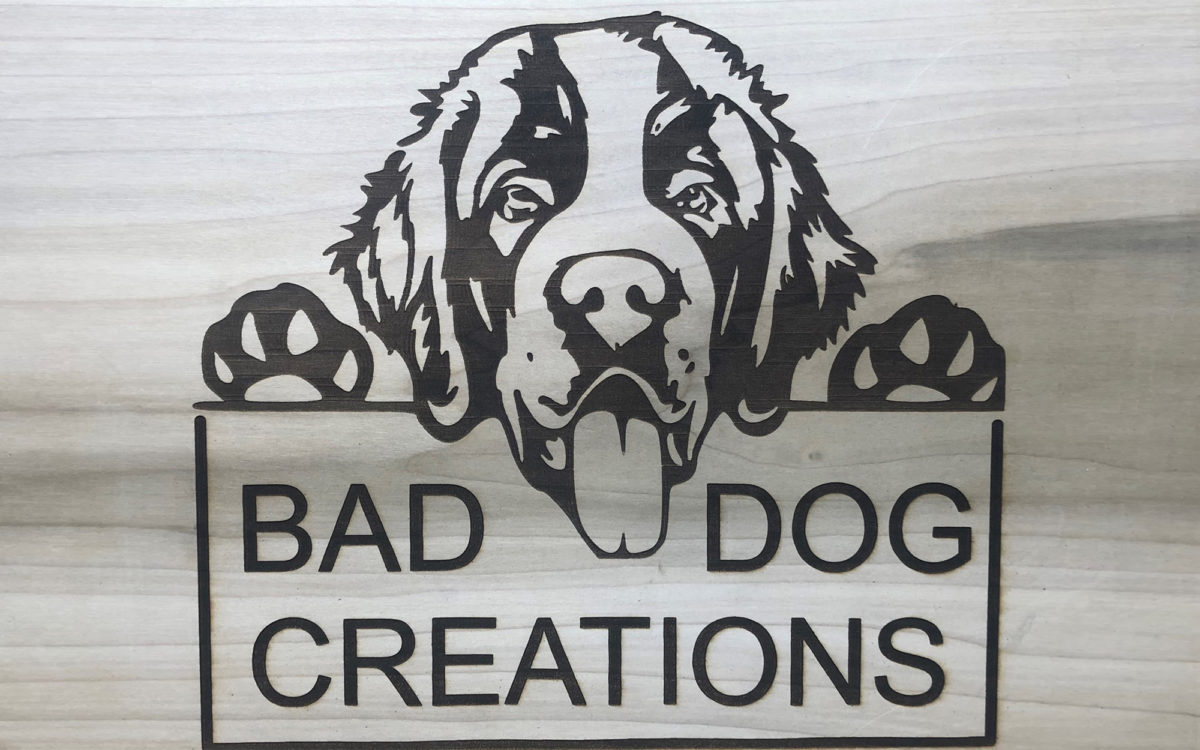 Bad Dog Creations is a laser engraving and computerized numerical control (CNC) company specializing in home decor, custom gifts, and collectible items. As a member of the St. Louis Hero Network, Bad Dog Creations provides high-quality laser engraving services that bring your most creative designs to life.
What Are Laser Engraving and CNC?
Laser engraving uses high-powered lasers to vaporize material like metal or wood, leaving deep grooves and delicate, razor-sharp designs. But how does that actually work? How do you turn a piece of metal or wood into something intricate and beautiful? The answer: applied science.
The beauty of laser engraving is not only in the final product but in the process itself. When engraving metal, wood, or other suitable materials, your laser beam strikes the material and sublimates the surface layer. Sublimation is the chemical term for turning a solid directly into its gaseous form, and it is the key element of this process. As the gaseous vapor from the material subsides, you are left with deep, clean grooves that accurately reflect your design.
Laser engraving is a high-powered process that can be performed either by hand or with the help of computerized numerical control. CNC machines are commonly used when you want a higher degree of control than hand laser engraving. After inputting your design into the machine, its specialized computer algorithm transforms it into a set of instructions to follow. Then, the CNC begins to engrave with the utmost precision, preserving even the smallest details.
Here are some of the key benefits of using a CNC laser engraving machine:
CNC machines can accurately cut holes as small as 2mm wide.
CNC laser cutting produces cleaner cuts, so there isn't a need for post-processing or finishing.
CNC machines operate in a closed environment, reducing the risk of injury or material distortion.
Bad Dog Creations uses these laser etching techniques to bring even the most complicated designs to fruition.
What Can You Make With Laser Engraving and CNC?
Bad Dog Creations can create a wide variety of products for your home. Here are some of the many home decor and custom products they've made already:
Layered signs and wall art with sports team insignias, Star Wars designs, and comic book superheroes
Engraved slate coasters
Dog bowls
Wooden earrings
Keychains
Stamps
Custom phone grips
Guitars
Flasks
Cutting boards
Water bottles
And more!
As you can see, the list is long and varied–engraving is a widely-applicable process. It's the perfect choice for creating custom gift ideas and personalized home decor.
Custom Designs From Bad Dog Creations
Bad Dog Designs has been in the engraving business for over 10 years, so we can easily turn all of your ideas for custom designs into a reality. Whether you're looking for a custom gift or a new piece of home decor, Bad Dog Creations can make it. We're well-versed in engraving metal, wood, and slate, and can even custom paint or stain your design.
If you're looking for a custom, precise piece of art or a personalized gift, contact Bad Dog Creations today!